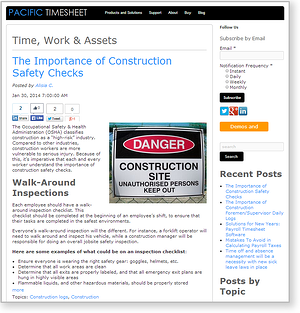 Join our community of Payroll, HR, Finance and Operations professionals who subscribe to Time, Work and Assets to get the latest employee, work and asset tracking content delivered to your inbox.

The Pacific Timesheet Blog covers everything you need to understand how to improve employee performance in the office and in the field. Topics include payroll, time off and absence management, projects, employee attendance performance, manufacturing, construction, field services, non-profits, engineering services, government agencies, contracting, staffing, government regulations and policy, and more.

Get articles like these and more when you subscribe:
5 Ways Project Time & Expense Tracking Software for Consulting Improves Billing
Construction Daily Huddle Meetings Good for Safety, Communication and Planning
How to Successfully Implement New Software
Top 3 Reasons Projects Fail & What You Can Do About It
What can we learn from the California Tech Sector workforce?